Replacing your hot water heater means you'll be saving money! Newer models are much more efficient.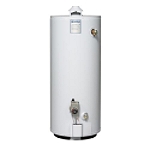 How would you like your water?
Deliver and unpack your water heater or treatment system
Inspect it for damage or defects
Determine if any additional work needs to be done (we'll always tell you and give you an estimate)
Connect your new water heater or treatment system to necessary, code-approved utilities
Level and secure it and install manufacturer-supplied safety hardware
Test your water heater or treatment system to ensure it performs properly
Give you easy-to-understand instructions
Back up our work with a strong warranty
Clean up and dispose of any job-related debris
Talk to us.
Live Representative

Monday through Friday : 8AM - 10PM EST
Saturday: 9AM - 8PM EST
Sunday: 10AM - 8PM EST
More information
When the Blue Service Crew installs your new hot water heater or water treatment system, you're not just getting our commitment to skilled, responsive service. You're getting local pros who know what you need. We stand by our work with a strong one-year warranty.
Related services for Water Heater
Sears Home Services offers air duct cleaning...