Snowblower Tune-up
1-800-424-2047
Call Us Today
Make sure your snowblower is working smoothly before the first snow. Now might be a good time.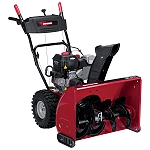 WE KNOW SNOWBLOWERS
When the snow starts falling fast, your snowblower has to work when you need it.
A quick, expert snowblower tune-up means you can fire your snowblower up with confidence every time – even in the most extreme conditions.
More information
What we do for Snow Blower Tune-ups:
Tune engine; check ignition system, carburetor, battery, and throttle and choke controls. Clean engine cooling fins, clean and inspect air filter. Change oil.
Check manual starter and electric starter if so equipped.
Lubricate moving parts; pivot points, cables, auger shaft, and drive plate zerk.
Lubricate, inspect, adjust or replace as needed, all drive belts and/or chains as applicable.
Test overall operation of equipment and ensure that all safety features are fully operational at the time of service.
Related services for Snow Blower
Blue Service Crew pros service all brands,...

Keep your splitter running sharp. We'll...