Lawn Mower Maintenance
1-800-424-2047
Call Us Today
Mowing your lawn in the evening rather than the afternoon puts less stress on your grass. It's cooler then, too.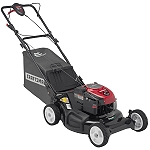 Don't get cut off
Keeping your lawn looking good requires a well-running lawn mower. And lawn mower maintenance will also keep you safe while you mow.

Sears experts are here to help. We'll give your lawn mower a thorough safety check and make sure it's running efficiently, so you can have peace of mind that it will work when you need it. An efficient, professionally maintained lawn mower will save you money on replacement or repairs and let you get back to enjoying your backyard.
More information
What we do for Lawn Mower Tune-ups:
Inspect mower/high wheel trimmers housing.
Tune engine; check carburetor and battery for proper operation.
Replace air filter, spark plug and change oil.
Inspect drive mechanisms as necessary on self-propelled mowers.
Inspect and sharpen cutting blade on rotary mower (mower blade replaced if Tune-Up with blade replacement selected)
Lubricate moving parts, pivot points, and cables.
Test overall operation of the lawn mower and ensure that all safety features are fully operational at the time of service.
Additional parts and repairs needed beyond Tune-up are extra, and customer will be notified if repairs exceed pre-approval amount.
Tune-up not eligible on reel and electric mowers, or covered under any warranty.
Related services for Lawn Mower
We do some chipper repair at our service...

Blue Service Crew pros service all brands,...