Home Theater & Entertainment Installation
1-800-497-4402
Call Us Today
Speakers on stands have better sound quality than speakers on walls. FYI.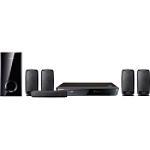 Get the popcorn ready.
What We Do for Home Theater Installation
pssssst
Inspect your home theater equipment for damage or defects
Help you plan what should go where for the best possible home theater experience
Determine if any additional work needs to be done (we'll always tell you and give you an estimate before we start)
Maximize the HD picture and sound quality
Bundle connections behind components for a clean, sleek look
Test your system to ensure it performs the way it should
If you choose Standard Plus or Premium Plus installation packages, we'll also conceal speaker wires and cables; move your old (non-wall-mounted) TV to a new location and hook it up; and consolidate up to three remotes
Give you easy-to-understand instructions
Clean up and dispose of any job-related debris
Back up our work with a strong warranty
Finish up that popcorn for you (just kidding, but we might not refuse if you offer!)
Talk to us.
Live Representative

Monday through Friday : 8AM - 10PM EST
Saturday: 9AM - 8PM EST
Sunday: 10AM - 8PM EST
More information
Our skilled pros have the ticket to the best home theater installation. Blue Service Crew pros are part of a nationwide network that's right around the corner, so you plug into the best tech know-how every time. And we stand by it with one of the toughest warranties in the business.
Related services for Home Theater
Blue Service Crew pros will get your home...

Television repair you can...