We can work faster if you clear out the items under your sink before we arrive. Thanks!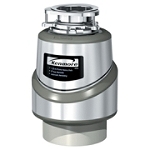 The daily grind
What We Do for Disposal Installation
pssssst
Unpack your disposal
Inspect it for damage or defects
Determine if any additional work needs to be done (we'll always tell you and give you an estimate before we start)
Connect your new disposal to necessary code-approved utilities
Test your product to ensure it performs properly
Give you easy-to-understand instructions
Clean up and dispose of any job-related debris
Back up our work with a tough one-year warranty
Talk to us.
Live Representative

Monday through Friday : 8AM - 10PM EST
Saturday: 9AM - 8PM EST
Sunday: 10AM - 8PM EST
More information
Make the daily grind a little easier with a professional disposer installation. We stand by our work with a tough one-year warranty. And our nationwide network means the right pros are right around the corner.

Related services for Disposal