We'll carry that dishwasher. We have those back brace things, you know. But could you tell us how many stairs you have? Thanks.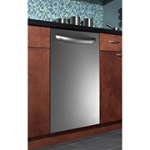 What's better than a great meal? Not doing the dishes.
What We Do for Dishwasher Installation
pssssst
Check pump and motor shaft for leaks (to help avoid expensive pump problems in the future)
Check and clean clogged upper and lower spray arm nozzles
Clean out filters as well as debris in the circulation motor impeller
Check condensation vent for blockage
Check and clean dispenser operation
Inspect the wiring for dangerous electrical issues
Check heating element
Make sure the unit is level and secured to the countertop or cabinets
Check and clean door seal to prevent leaks
Verify drain hose is installed properly
Inspect for lime scale buildup and give prevention recommendations
Review how to get the best results from your dishwasher
Talk to us.
Live Representative

Monday through Friday : 8AM - 10PM EST
Saturday: 9AM - 8PM EST
Sunday: 10AM - 8PM EST
More information
Professional dishwasher installation means you don't have to worry about plumbing, electric or heavy lifting. Our one-year warranty protects you from unexpected problems. And our nationwide network has installation pros in your neighborhood right now.

Related services for Dishwasher