It'll help us work faster if you empty the racks before we arrive. Thanks!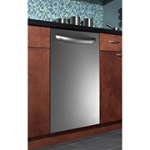 Do You Have a Warranty
or Protection Agreement
If you do, then you're entitled to free support from our Technical Specialists.
If you give us a call, we can help you get your washer working again. If we can't help you over the phone, we'd be happy to schedule a service appointment for you
Give us a call to learn more.
Repair Support Center
1-800-424-2047
7:00 am - 10:00 pm CST
Did You Know?
Our repair services are backed up by a 90-day warranty. Your satisfaction is guaranteed.
Dishwasher a soap opera?
The Sears Blue Service Crew has thousands of Repair technicians nationwide. Our local pros receive ongoing training and have access to millions of Repair parts for the most popular dishwasher brands.
We're just a call or click away! Schedule your dishwasher Repair service appointment online or call us today. We can Repair all major dishwasher brands, including Sears, Kenmore, Frigidaire, Amana and Whirlpool.

What We Do for Dishwasher Repair
When you make a service appointment with the Sears Blue Service Crew you can expect us to:
Call before we arrive
Give you an estimate before we begin work
Fix it right the first time
Guarantee our work
Paying for In-Home Repairs is Easy
Our Repair technicians will process payment and any coupons or discounts at the time of service.
We accept all the major credit cards as well as many Sears gift and club cards.
We also accept cash and check
We Frequently Repair Dishwashers in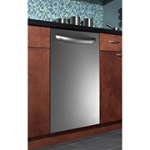 Troubleshooting Tips
Do you have a white film in your dishwasher after a dishwashing cycle?
White film in your dishwasher can be caused by hard water. Soften your water with Dishwasher Magic. Not sure if you have hard water? Bring a sample to a local Sears store to get it tested for hardness.
Do your dishes have streaks or spots after a dishwashing cycle?
Prevent streaks and spots by using rinse aid and the "heat dry" option.
Is your dishwasher taking too long to wash your dishes?
Before starting your dishwasher, run the nearest faucet until the water is hot.
Still having trouble? Schedule a repair appointment online and get 10% off!
Dishwasher Repair Videos
Dishwasher Filter Cleaning


This video demonstrates how to clean your removable dishwasher filter, once it has been determined that the filter needs to be cleaned. Please watch our video "When to Clean a Removable Dishwasher Filter: Tips from Sears Home" if you need help in determining if your dishwasher filter needs to be cleaned.

2:27

Hard Water White Residue


If you notice a white residue inside your dishwasher or on your glasses, it may be due to hard water. This video provides tips and information to help you prevent the film and buildup from making an appearance.

2:30

How to Fill a Rinse
Aid Dispenser

This instructional dishwasher tutorial demonstrates how to best fill your rinse aid dispenser to help your clean dishes stay spotless.

2:22
Customer Testimonials
"The tech called before coming to the house, verified the address, and showed up at the exact time he said he'd be there. He was very respectful of my home, cleaned up, and was very professional. He quickly diagnosed the problem and fixed it immediately. I am very happy with the technician, his job, and the service provided."
-- Barbara D., Lowell, MA
"We were totally satisfied with Sears Home Services. We requested a service on our dishwasher. Sears scheduled a visit for a service tech. He arrived as scheduled (and called ahead), surveyed the situation, and asked us to describe the problem as we saw it. Then he diagnosed the washer and confirmed the problem. He ordered parts to be delivered directly to us, and scheduled a follow up visit to make the repairs. He called ahead on the revisit day, arrived on time, completed the exchange of parts, checked how the washer ran again, and cleaned up after himself. Then he went over the repairs with us and asked if we had any questions or additional concerns. We did not. We were totally satisfied with the entire experience."
-- Marlena Y., Raleigh, NC
"Tony P. arrived within the stated timeframe we were given. He was very thorough and explained what he was doing to diagnose the problem. He took great care to not damage our cabinetry, even though the dishwasher was a very tight fit. I am very happy with the service that we received!"
-- Konstantin T., Buffalo Grove, IL
Overall, others rate this service
Reviewers
(%) would recommend this to a friend
Overall Review Breakdown:
rating |

Reviews
Reviewers
(%) would recommend this service to a friend
Submit Your Feedback